LEGO® SERIOUS PLAY® Hybrid – Online
We make your online workshop engaging, result oriented and fun!
Online workshops: the next level!
Do you get frustrated with boring online meetings – brainstorms – workshops? We can help you make them engaging, result-oriented and fun! ​
Inthrface presents LEGO® SERIOUS PLAY® hybrid – online, an online workshop concept that builds on the features of the original LSP method and makes them come alive in the online context. The result is online workshops that are engaging, with maximum involvement, co-creation, openness, ownership and clear next steps.​
Many believe that in the future, corporate life will be lived, at least to some extent, in the online workspace. Technology has helped us to switch from the office to working from home and we have all discovered the many positive effects of this. But we also miss the social connection and creativity that comes with talking to our colleagues, whether it's work-related or just a chat. ​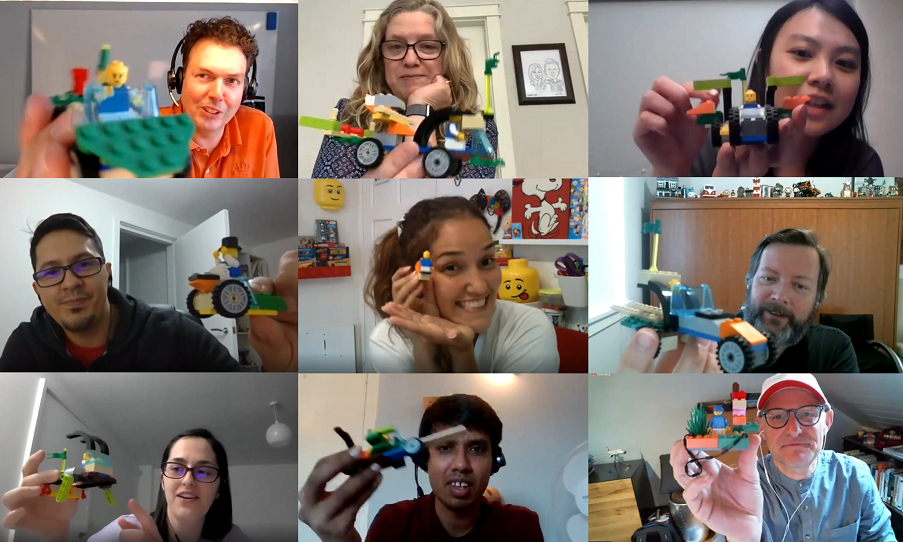 In developing LSP hybrid – online, our aim was not to replicate the way we work and interact face-to-face in an online context. Instead, we wanted to take working in an online space to the next level, to integrate all the benefits of meeting online with the hands-on creative interaction that takes place in every workshop that uses the LSP method.
LEGO® SERIOUS PLAY® Hybrid – Online is your fast

track to impactful online workshops
​
With LEGO® SERIOUS PLAY® Hybrid – Online, you get the opportunity to have in-depth conversations with your colleagues about any challenge you are currently facing. More than just a conversation, because you involve your hands in the thought process by building a LEGO® model. Activating this hand-brain connection will unleash your imagination and unlock new insights, new opportunities and new stories that you will share with your colleagues. ​
Our concept is designed to effectively analyse and describe your current challenge, to understand factors around you that influence it how everything is connected. Based on this knowledge, you will be able to draw conclusions, identify actions and key principles that will guide your future decisions.​
Regardless of whether you work online or face-

to-face, you will experience the same benefits:
​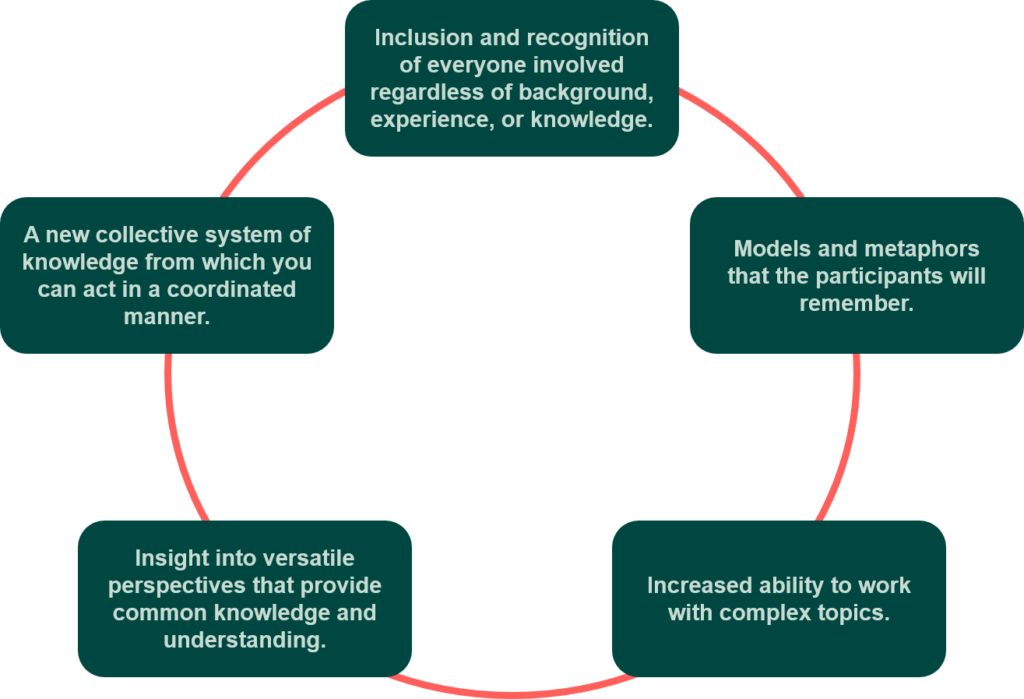 Unique advantages of LEGO® SERIOUS PLAY®

HYBRID – ONLINE

Flexible workshop design
You can start a process today, continue tomorrow and finalize the day after tomorrow (or any timing that suits your needs).

Impactful workshops
From 2 to 8 hours, tailor made to the scope of your workshop to assure maximum involvement, flow, openness, co-creation, innovation, ownership and clear next steps.

Fully compatible with F2F workshops
You can start a process online and finalize face-to-face, or you can start with a large stakeholder group online and finalize with a focus group face-to-face.

Low-entry technical requirements
No need for extra technical equipment, participants just need to connect for the workshop via ZOOM and we will introduce the digital collaboration tool before we start.

Low material cost
No need for huge piles of LEGO®, every participant receives his/her own LEGO® kit at home that they will use throughout the process.

No travel costs 
Participants can join from all over the world without incurring travel and accommodation costs. This makes it easier to invite more participants into the process.

Instant documentation 
During the debrief after the workshop you will get a high-resolution document of the MIRO board as well as an edited video of the most important parts of the workshop.

COVID-19 safe 
Regardless of whether the participants come from a confined area or not, they can be fully involved in the process without worrying about sanitary or hygiene measures.
Flexible workshop design for a wide variety of

subjects.

​
We have created a workshop concept that can be adapted to almost any organizational challenge. It consists of five online steps that can be combined in different ways, to optimize the workshop for your needs, depending on the output you seek, the number of participants (from 4 up to 100) and the available time. Some examples of recent workshops that we have facilitated are:
Team building workshop on remote working, 4 hrs, 14 participants​
Sense making workshop on the impact of the pandemic on collaboration, 2.5 hrs, 12 participants ​
Strategic workshop on performance above market, 7 hrs, 82 participants​
Team development workshop on the ideal workplace post COVID, 6 hrs, 8 participants​
Project kick-off workshop, 8 hrs (2 days)​
Product launch workshop, 8 hrs (2 days), to be continued face-to-face​

And many more. 
See our generic workshop concept here »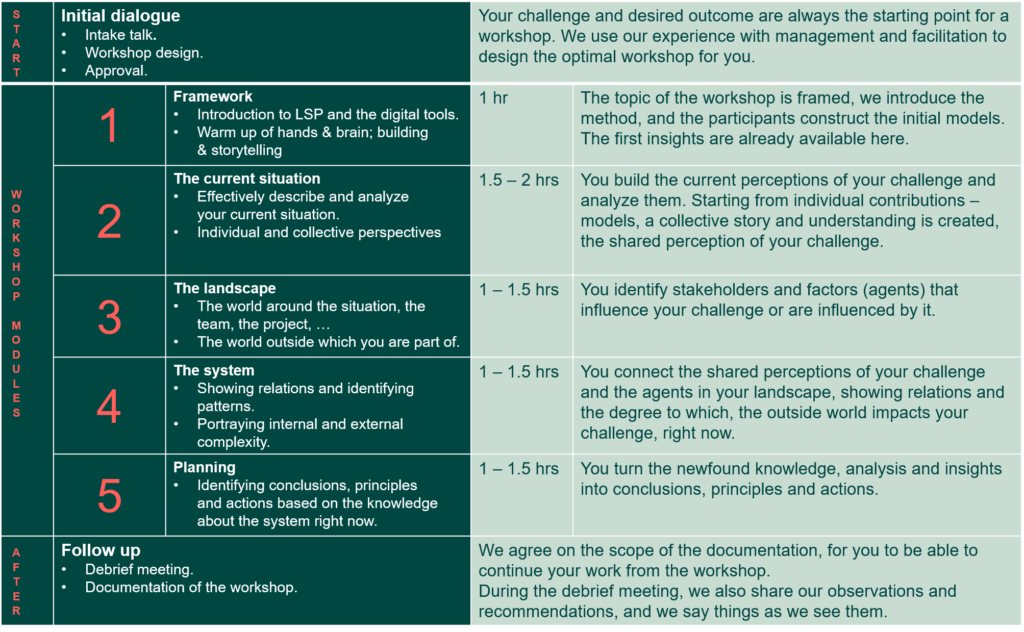 Also, more complex challenges dealing with strategy –and team development or change can be addressed in the online setting, using LEGO® SERIOUS PLAY® as a key driver of the process. Having designed and successfully delivered more than 1000 workshops worldwide, Inthrface understands how to transform a successful face-to-face approach to an online workspace, to create a workshop that everyone enjoys and that has maximum impact.
Challenge us, and we will create a workshop format that helps you

achieve your goals.
What our clients have to say…
"Sharing the stories about these models and reflecting on them allowed us to come up with distinct ideas and actions to work better together as a remote team, working in different time zones. The workshop was hands-on, inspiring, and fun. It was surprising to see how the LEGO® bricks helped us shaping our thoughts leveraging honest and constructive feedback from all team members with the help of a skilled facilitator. The summary of the workshop and feedback session afterwards allowed us to define tangible action points! Thanks a lot Inthrface!"
"We organized an online team event during this covid period and decided to use LEGO® SERIOUS PLAY® as an approach. The challenge was to bring 75 people virtually together and give them a way to reflect on the current situation in a creative and engaging way. Using LSP during the workshop helped them to reflect, share ideas, inspire each other and have lots of fun together. Thanks to the Inthrface team, mission accomplished!"
Do you have a question about our online workshops, or would you like to learn more about LEGO® SERIOUS PLAY® in general?

Then join our FREE LSP webinar.
ARE YOU CURIOUS ABOUT WHAT CREATIVE PROCESSES ONLINE AND THE LEGO® SERIOUS PLAY® METHOD CAN ACCOMPLISH IN YOUR ORGANIZATION? Contact us today and learn more.