LEGO® SERIOUS PLAY® Workshops
Strategy development
Strategies that matter - right now.
We make it easy to co-create knowledge, develop common understanding, and move quickly towards your aspirations together.
Organizations must be dynamic and flexible in order to navigate in a world constantly changed by technology, economy, markets, the environment, politics, and trends. Based on your reality we create processes which take potential roadblocks, opportunities, and stakeholders into consideration and enables you to develop, refine, or re-evaluate the strategy in an agile manner in the future.
Think about the future and become proactive
More than 200 times, organizations from all over the world have participated in strategy workshops or processes, where LEGO® SERIOUS PLAY® and other creative tools have helped answer questions such as:
How do we develop strategies that are sharp and focused without simplifying the reality in which we work?

What does a strong and operational strategy include?

How do we implement the strategy in our organization and in our everyday life?
A Strategy development process with confidence, courage and new inputs
You get a combination of traditional and creative methods and tools in practical workshops and processes focusing on the parts of your organization that you would like to activate. All methods and tools are theoretically based, very effective and unleashes imagination in a serious way, just as they emerge from the latest research and theories on strategy and organizational behavior.
The strengths of our strategy processes:
Thinking with your hands expand the space for definitions and solutions to problems.

The participants' individual and joint creativity, overview and overall building of knowledge will be greater.

Your ecosystem and stakeholders are efficiently mapped in a concrete manner.

You can play out challenges, future scenarios, and trends that affect you and your aspirations.

When you explore scenarios by building and analyzing your current ecosystem, you innovate and develop new ideas.

Several perspectives emerge, as it is psychologically safe to tell stories and ask questions towards the different models. It creates a sense of trust and a space where all stories are part of a shared picture.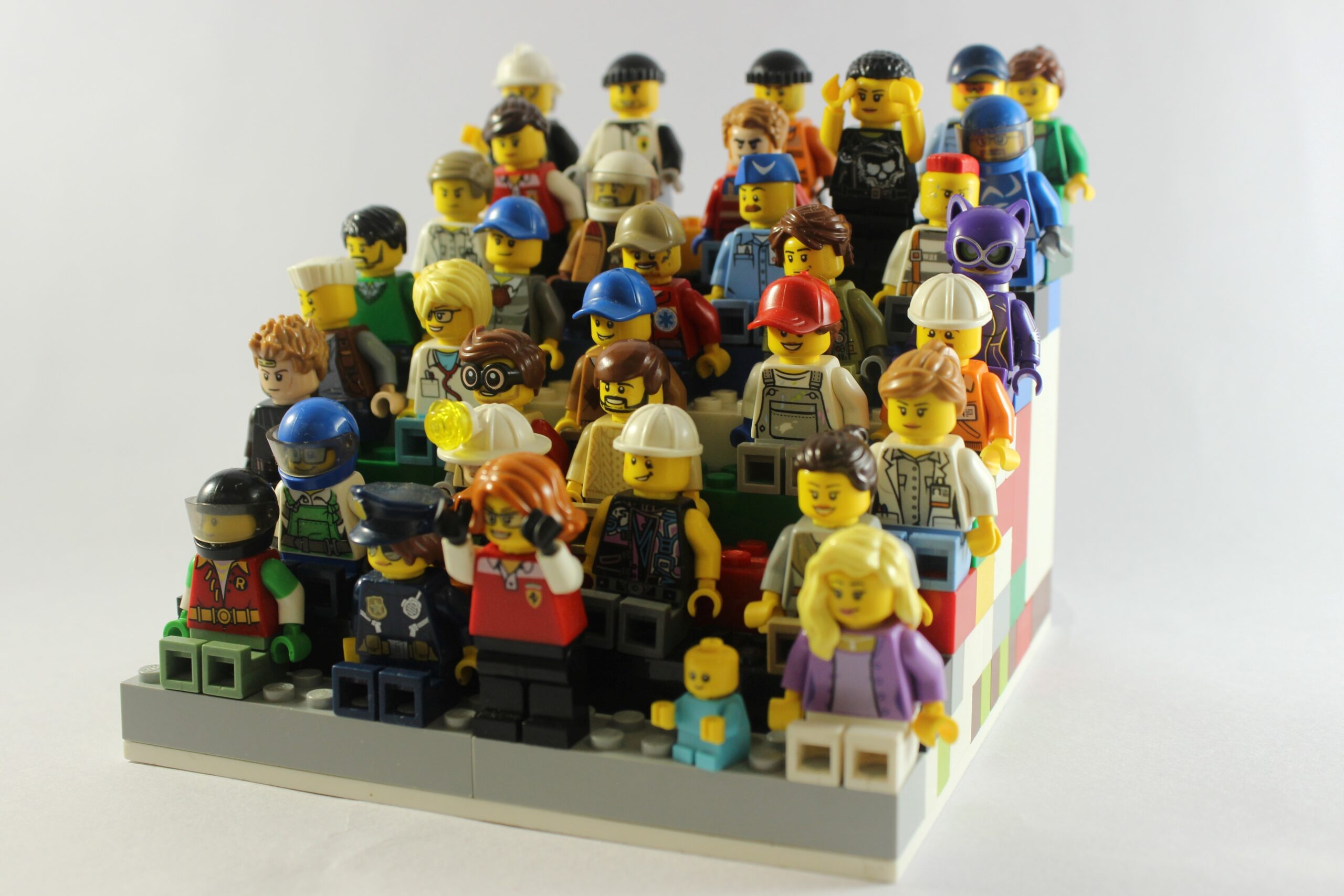 Our basic model:
There are no two strategy processes that are completely alike. But in every process, we make sure to put metaphors, narratives, and imagination into play to get the participants into flow. Below you can see an example of one of our basic models.
The time schedules are indicative and depend on the complexity and level of strategy development in your organization. And you can even gain a lot from each module individually. We adjust the model to each individual workshop or process, for you to get the absolute most out of the practical framework you have planned.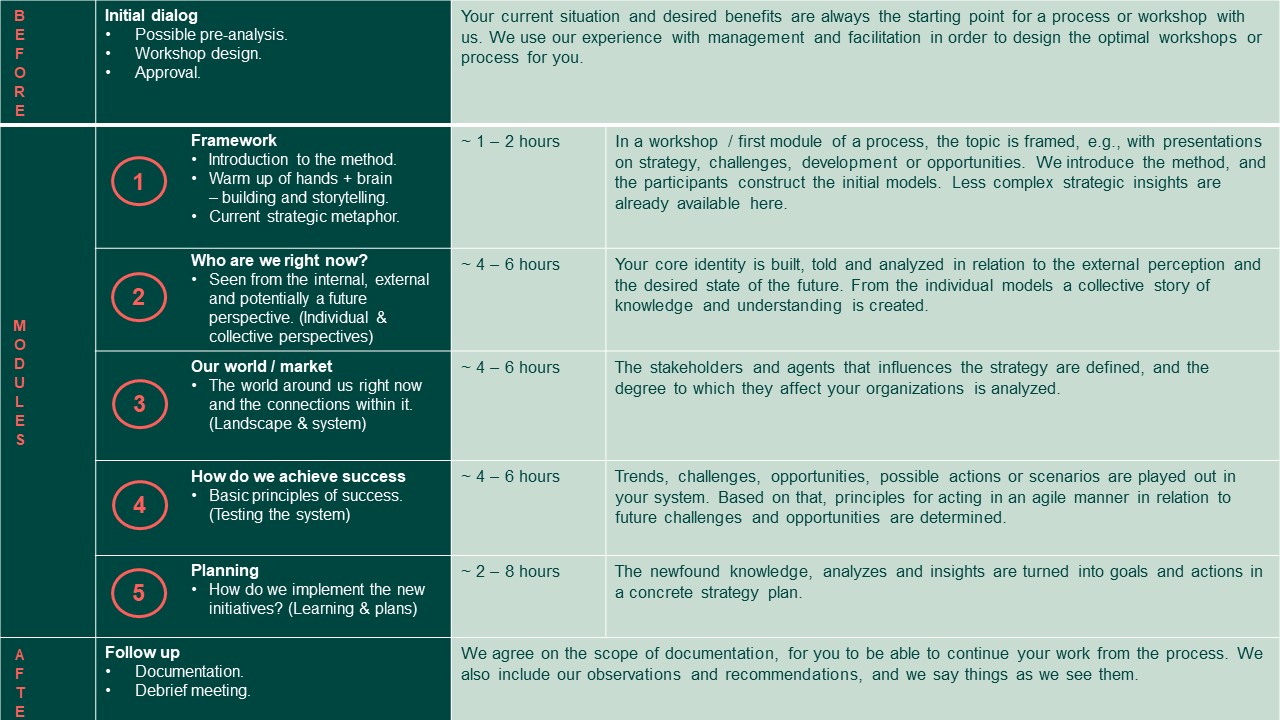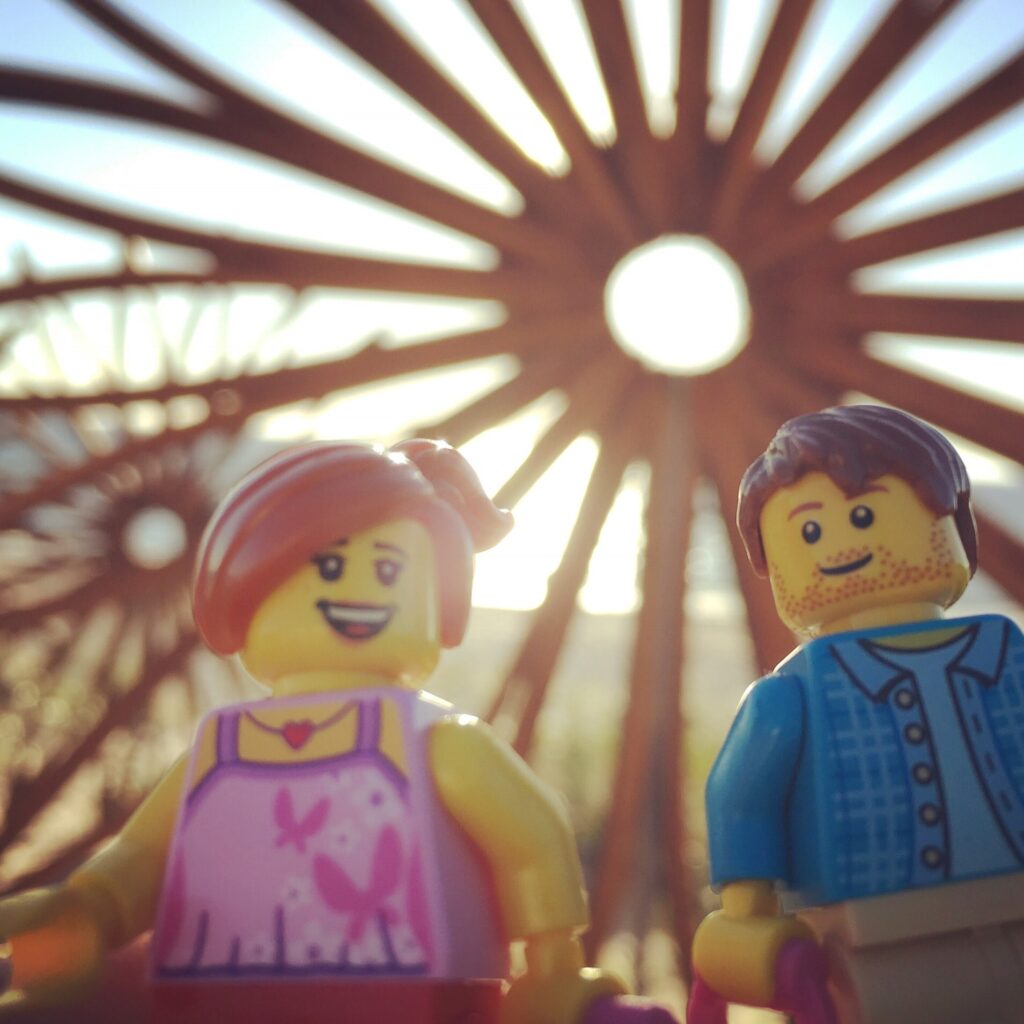 The scope and time frame of the strategy process is based on the output you seek – for example:
Mission, vision, values.

A new or revised strategy.

Operational plans for an existing strategy.

Must-win-battles and/or focus areas.

Test of scenarios and planning.

Gap-analysis and necessary measures.

Risk analysis and preventive activities.

Concrete objectives and sub-objectives.

Implementation plans for companies, departments, teams, or individuals.

Input from the participants on strategic topics or wishes.

Insight into and agreements on decision criteria.
Regardless of the focus of your specific strategy process, you always get a common understanding of your organization, market, stakeholders, aspirations, as well as inspiration for actions and a common language around development.
An extra gear to familiar concepts
Our creative methods also create results with well-known concepts that you can focus on or supplement with, for example:
Strategizing  
PEST-analysis
Business Model Canvas
Lean Start-up Canvas 
SWOT-analysis
Porter's 5 forces
3 Horizons of Innovation
Porter's Value Chain
In addition to a fantastic process, where deep involvement and ownership of the strategy were anchored in the management group, The LEGO® SERIOUS PLAY® method provided a powerful presentation right at our level at the leadership workshop. Still today, I have our future vision for Eltel Denmark sitting in my office, built in LEGO®.
Do you have a strategic project in mind?
Let us inspire you on how to solve it.