LEGO® SERIOUS PLAY® Workshops
Change management
Specialized assistance through changes.
We spark your organization's desire to implement new initiatives and ability to execute them effectively.
The only constant is change:
Changes occur in organizations everyday – from minor changes such as new interior design of the canteen over medium-sized changes like new systems to large strategic or organizational changes. Honestly, it can get a little tiresome – even regarding the smaller changes.
However, it is much better than reaching a state of panic when a sudden and devastating change or crisis occur. How ready for change is your organization?
Employees get scared by the mentioning of "change", because they fear what it might mean to them.

There is a latent fear of the next new trend because you do not know neither the trend nor the consequences of it.

You urgently need to change, but lack the necessary overview and coordination to make the right decisions.
No matter what change you and your organization are experiencing or planning, we have the necessary, unique, and thoroughly researched methods to guide you from start to finish with efficiency and enthusiasm.
Your change specialists
We must admit it – we love change! Change is a central part of our DNA, experience, and specialty. The more complex and urgent it is the better. We are always eager to get started and make it happen in the best way possible.
For that reason, we are unable to stop ourselves from diving headfirst into the research about how organizations should handle change RIGHT NOW, as this field is constantly changing as well.
For three years, we have gathered knowledge from research and practical experiences on how organizations succeed with change in regards to sociology, development theory, crisis management and practical wisdom theories. We have, furthermore, added the playful, intuitive, and concrete elements from LEGO® SERIOUS PLAY®.
The result is a new paradigm and three unique concepts with a wide range of tools to work with change and crises. Try them!
The formula for successful change
Four basic parameters are needed to successfully change and overcome acute crises:

It sounds quite simple, but as you may have experienced –it can be rather difficult to translate into reality. We help you with that too! Our three concepts, which we combine and adapt to suit your particular needs support the full range of organizational changes. The concepts strengthen the basic parameters in a very concrete way and make you feel a greater sense of readiness for change.

What our clients have to say
After spending a long time exploring and looking at different consultants to help with developing Berkshire Maestros, we came across Inthrface and knew instantly that they were the people that we wanted to work with.  Using the LEGO® SERIOUS PLAY® methodology as a creative development tool, Inthrface facilitated the workshops in such a manner that they got the absolute best out of those involved, engaging individuals and enabling the participants to bring their knowledge, opinions and voice to the table.  For any organization looking for an innovative, refreshing and collaborative approach to change and development, I highly recommend Inthrface as being the people to help.
    Ready for cultural change: From insecure to invincible
What we think and how we feel affects what we say and do. For that reason, successful change does not start with a good solution; it starts with a good feeling in your stomach. How many of your employees and department managers become enthusiastic when you say "change" right now? And how many shut down mentally and just hope for the change to pass soon? We help your organization get ready to handle change constructively, with the right capabilities, the right attitude, and the right change environment. Our concrete exercises can be combined to fit your exact needs and they will help you get over change fatigue and stomach aches.
Know the indirect and direct factors of readiness for change
You will experience and improve the five key factors that influence how emotionally and intellectually ready you are for real changes in a simple and concrete way.

Open the dialogue about inner barriers, dreams and role models, and experience enhanced team-spirit and coherence, as you improve the indirect and direct factors for successful change.
What the framework of your workshop might look like
Sometimes mental barriers are the only thing standing in the way of releasing your full potential. For that reason, we have created three formats that primarily focus on the emotional side of both the individual and the team.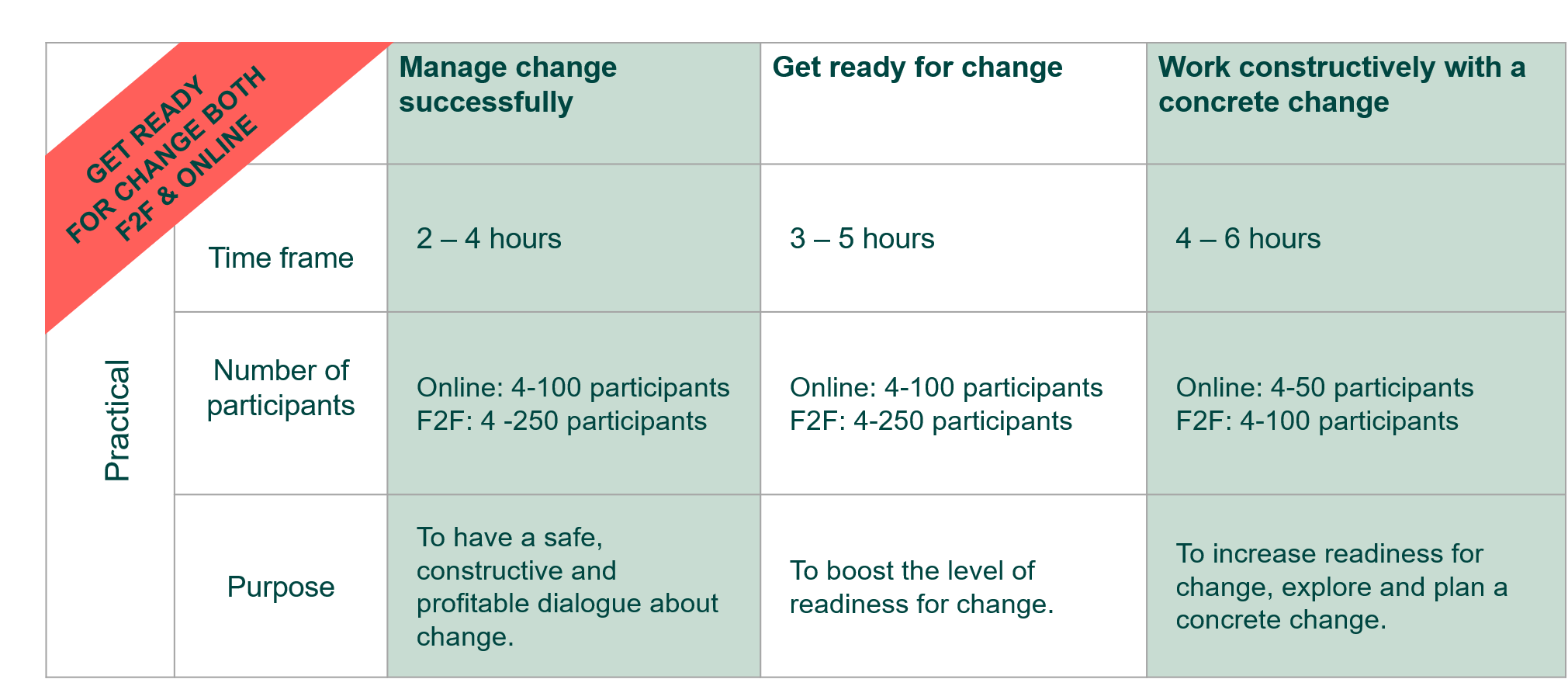 During the workshop, you will work on and increase the following factors of successful changes:

Are you ready to prepare for change?
Let us design your workshop the right away.
Parat til forandringer LIGE NU
    Ready for change RIGHT NOW: From uncertainty about the future to clarity and confidence
Changes can occur suddenly and with large consequences. Some turn our daily lives upside down in a very short time while we can see others move closer month after month. That is why we are now diving further into your organization – both now and in the future. Are you ready and robust? Do you know where change is needed and where you have already changed successfully? And what about the future and your role within it?
You will be guided safely through three phases of structured organizational change: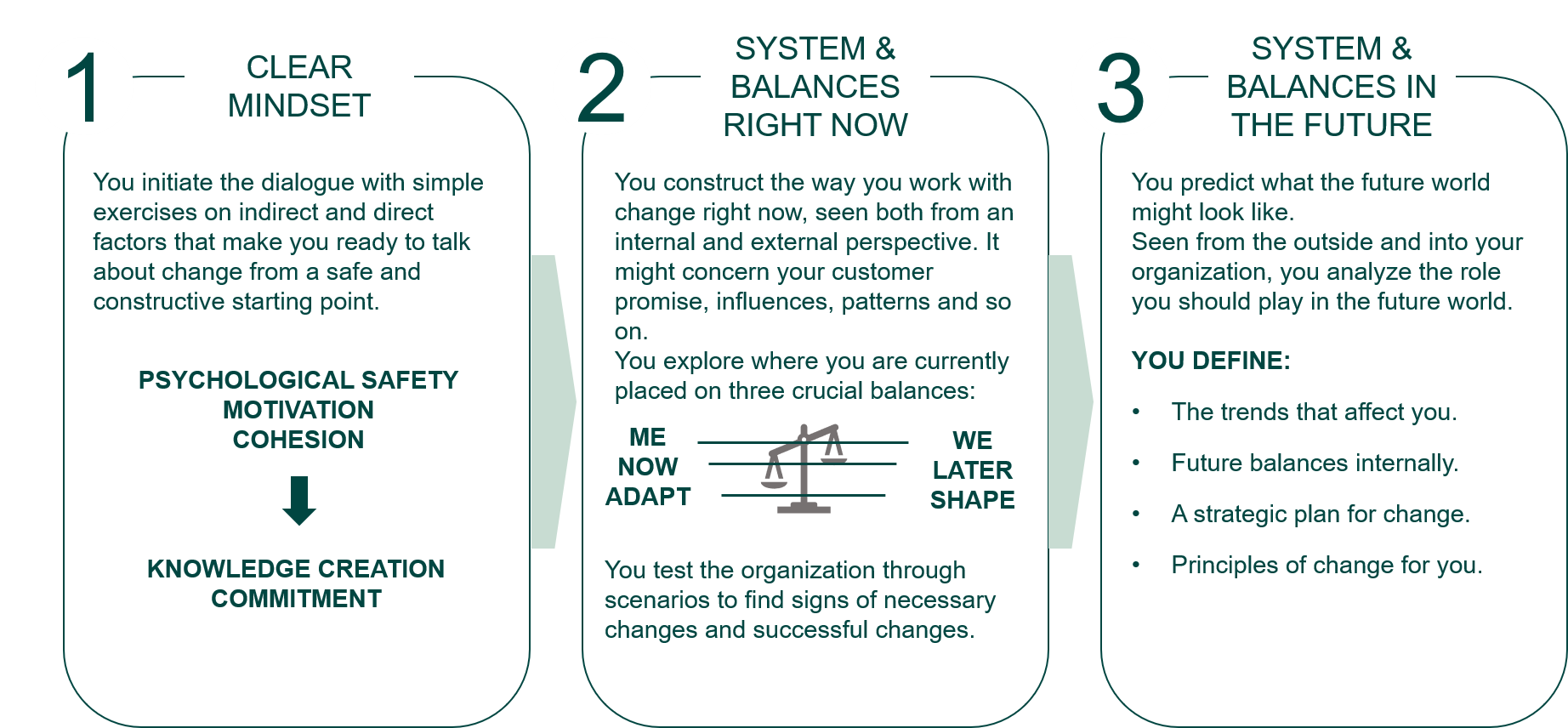 After the workshop you will:
Be ready for change.

Know your change environment.

Be prepared for future changes.

 

 
Interested in becoming a certified facilitator in the LEGO® SERIOUS PLAY® – Real Time Change® concept?
ARE YOU READY TO TAKE CHARGE OF THE NECESSARY CHANGES NOW AND IN THE FUTURE?

CALL MICAEL AND HAVE YOUR WORKSHOP CUSTOMIZED TO YOUR NEEDS.
Start forandringer i krise
    Start changes during crisis: From overwhelmed to prepared and determined​
When a crisis hits, the organization is severely tested. Imagine having tested and ensured your organization's ability to navigate in a crisis before getting hit? That's what our workshop about change will do for you. If you are already stuck in the eye of the hurricane, you will gain an effective method for making decisions and acting constructively. You will be guided effectively through five steps that will enable you to take action now:

After the workshop you will:
Have analyzed and limited a real or potentially real crisis.

Have gained a method for analyzing influences and causes.

Be able to manage crises in a responsible manner.

Understand the dynamics of a given crisis.

Become capable of making informed decisions.

Have a fine-tuned emergency plan for crisis management.
Interested in becoming a certified facilitator in the LEGO® SERIOUS PLAY® – Real Time Change® concept?
Would you like your organization to be able to handle crises more safely?
Call Micael now and have your workshop designed the right away.
Regardless of the workshop format, you can expect great benefits
Both our creative LEGO® SERIOUS PLAY® method and our view on working with change are unique and based on extensive research. Our experience shows that you get a more valuable and longer-lasting benefit than from more traditional approaches to change management. And you will see that it can happen really fast!
PROVIDE ACCESS TO HONEST EXCHANGE OF OPINIONS.
A QUICK SHORTCUT TO THE CORE.
CREATE A COMMON LANGUAGE WITH CONTRIBUTIONS FROM EVERYONE AND ENHANCED PSYCHOLOGICAL SAFETY.
UNCOVER ACTUAL PROBLEMS, STRENGTHS, OPPORTUNITIES AND CHANGE FACTORS NOW AND IN THE FUTURE.
SPARK A SENSE OF OWNERSHIP FOR EVERYONE INVOLVED.
BREAK DOWN MENTAL BARRIERS TO CHANGE VIA INSIGHTS INTO YOUR LATENT FEARS AND DREAMS.
FORM EFFECTIVE COHERENCE WITHIN THE GROUP REGARDING CHANGE AND A COMMON UNDERSTANDING OF CHANGE.
DETECT VULNERABLE AREAS AND CREATE COMMON PREPAREDNESS FOR BOTH PLANNED CHANGES AND URGENT CRISES.
Use specialists for managing changes successfully
We are ready to help you enhance your commitment and ability to deal with or implement changes. Contact us now and have a workshop designed to fit your exact needs.
We also train change-agents!
Read more about how you can become a certificed facilitator in the LEGO® SERIOUS PLAY® – Real Time Change® method.