LEGO® SERIOUS PLAY® Workshops
Attractive and efficient workplaces
Cohesive and meaningful workplaces!
We unleash your potential as an attractive and efficient workplace.
From absence to coherence
All organizations dream of employees who take responsibility, are happy and who celebrate one success after another. Strong workplaces where the employees that are part of a strong community, develop positively and are skilled at what they do, so that everyone contributes effectively to the core task. This results in a sense of purpose, presence, and a good economy. However, sometimes reality looks a lot different.
You may experience one or more of these typical issues:
High absence due to sickness, terminations, and employee dissatisfaction.

Mistakes, work pressure and lack of support between teams.

Complaints and frustration due to poor service.

Low productivity and rising costs.

Inefficient processes and internal conflicts.
WE FACILITATE 5 STRONG SOLUTIONS AND RESULTS:
Committed and motivated employees

.


Quality in core services.

Improved service level and satisfied customers.

Improved economy.

Efficient processes and collaboration.
It is tough to face Monday morning for both employees and managers, and despite your best efforts to change things, the change is too slow and the gains too low. We can change that in a very short time using LEGO® SERIOUS PLAY® for attractive and efficient workplaces
We solve issues via creative processes
It is tempting to try to control and set up rules to manage the symptoms of unsuccessful workplaces. However, that is not how we work! – It does not work in the long run and your employees and organization are worth much more than a short-term quick fix. So, while others may dive into discouraging reports, we start elsewhere. We start with what we know works!
We have more than 20 different LEGO® SERIOUS PLAY® concepts for creating attractive and efficient workplaces. Through more than 150 processes and workshops, we have worked with organizations to restore their attractive and effective features.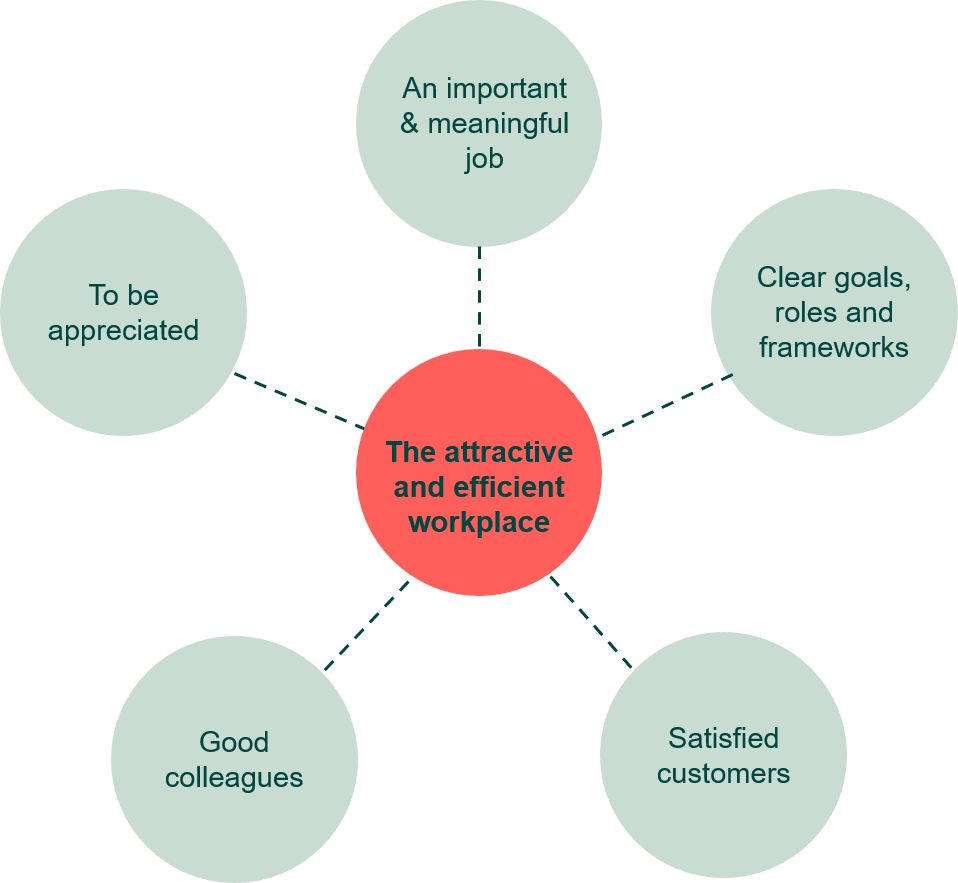 The attractive triggers the effective
When employees experience genuine well-being, good collaboration, high quality in core services and satisfied customers, they have a good work life. If we strengthen all the positive things in the workplace – efficiency will follow. For that reason, we work with themes that help you right now:
A shared language for the attractive and efficient workplace.
Expectations both internally and externally.
The core business and how it changes.
Processes and structures concerning the core business.
Prioritization and resources in everyday life.
Values, collaboration, and leadership in practice.
You can choose to work with one or more themes – they all have transversal elements that ensure a clear sense of purpose, focus on goals, collegial behavior, customer service and appreciation of the employees and the elements that already work well within your organization.
Our effective experience
If you need a thorough process, we have gained great experience with working in modules. It is very flexible, and it enables you to analyze your exact challenge and work with it in a well-planned sequence. We have developed attractive and efficient workplaces with great success in 75 larger or smaller processes, where we have addressed one or more challenges concerning coherence, core tasks and day-to-day collaboration: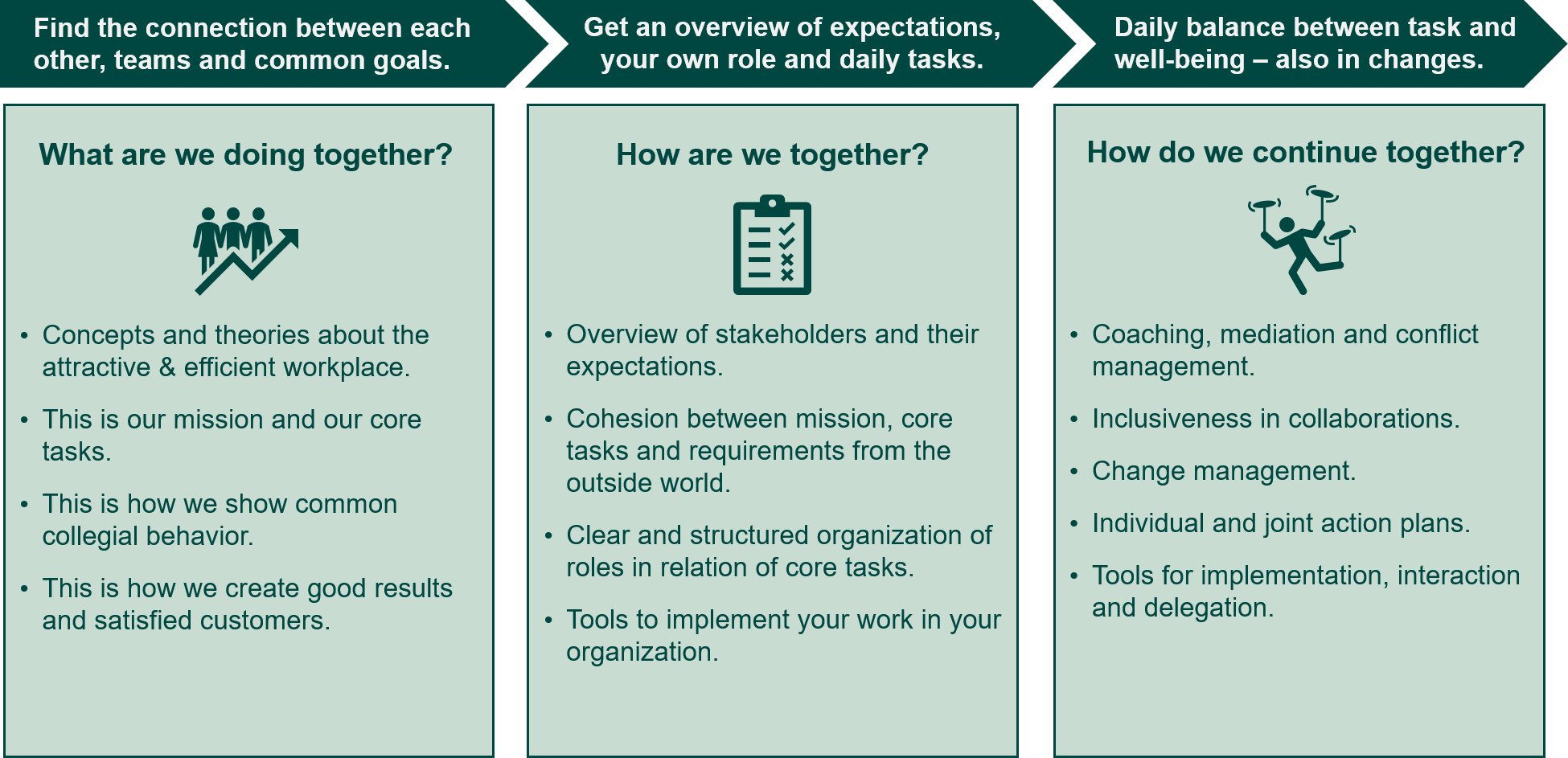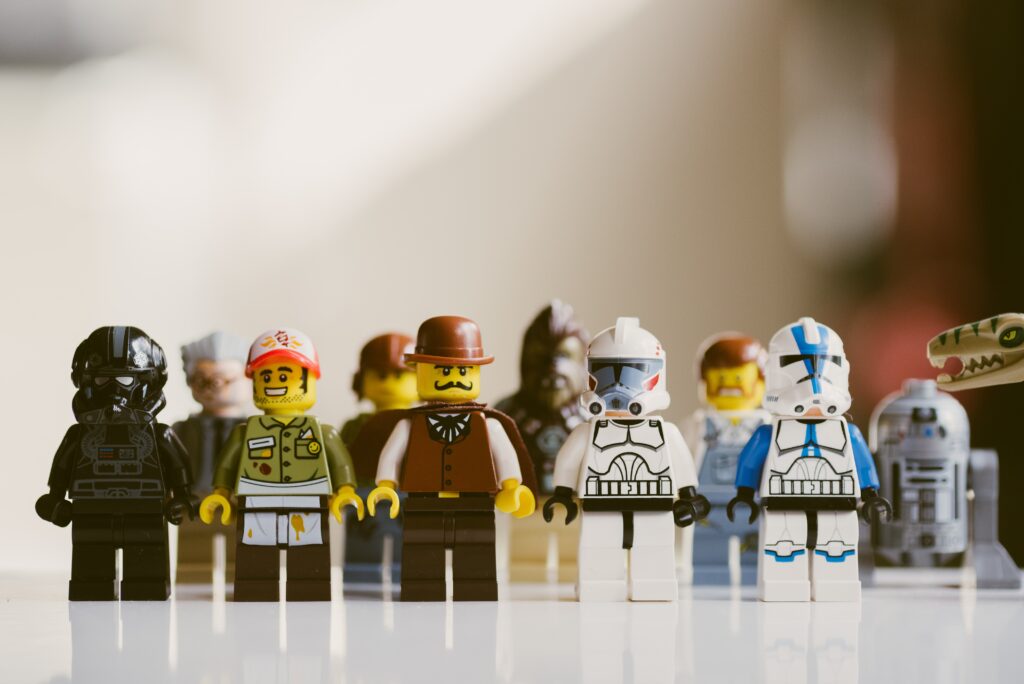 Two helpful clients have allowed us to share their experiences from the real world, so you can get more examples of both challenges, possible solutions and the very concrete results. Maybe they match the situation you are in?
Via the LEGO® SERIOUS PLAY® methodology,  Inthrface enabled a group of senior global leaders to address the challenges of bringing three organizational cultures together at a level of depth, openness and candor unmatched by any other tools used during the post M&A integration activities. Our people were hugely appreciative and positive about the benefits and outcomes of Inthrface´s approach which was customized to our context and objectives.
In the center for Technology & Environment, we have used Inthrface as process consultants to uncover and resolve the reasons for lack of well-being among large parts of our employees. In this process, Inthrface contributed quite significantly to our success, both by challenging our rigid views and via the consultants' professional and empathetic approach to the task. The LEGO® SERIOUS PLAY® method proved to be exceptionally effective during this process.
Creative processes deal successfully with emotions
When emotions and business need to be balanced, many traditional tools fall short. They are often based on rational and carefully planned causal explanations that do not strike a chord with frustrated employees or managers under pressure. Failed actions might in fact deteriorate problems further, when yet another effort fails, and neither employees nor managers can see that "something is happening."
LEGO® SERIOUS PLAY® processes are particularly effective for sensitive business situations because they create:
A sense of trust and a safe space where emotions are acknowledged and worked with in a constructive manner towards shared goals.

A fair process that provides new abilities to collaborate because everyone is equal and heard.

A common understanding of the participants' different realities and how they are connected, because we work both individually and collectively.

Connections between individuals and the team as well as between the team and other teams, and the rest of the organization, is highlighted in a visual and meaningful way.
And then it's fun, engaging and relevant. We use case-based learning and an activated imagination. We use techniques from e.g., the theatre to simulate potential situations and scenarios to equip the participants for everyday collaboration, tasks and collegial behavior.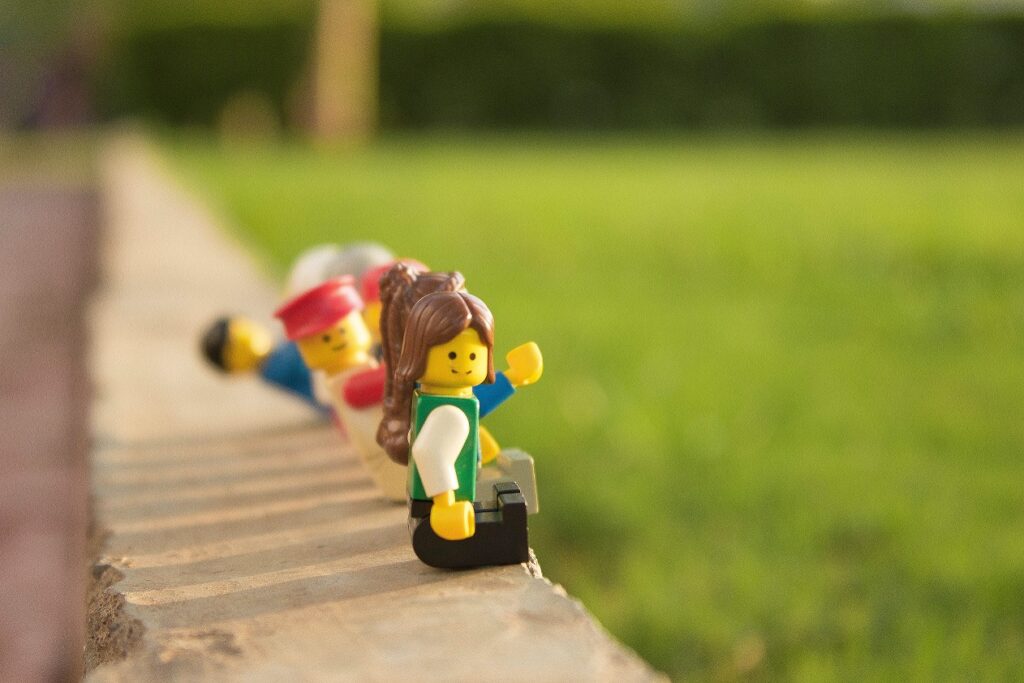 DO NOT SETTLE FOR AN ADEQUATE WORK LIFE OR LUKEWARM RESULTS – LET US GIVE YOU INPUT ON HOW TO GET YOUR WORKPLACE TO THE NEXT LEVEL FOR BOTH MANAGERS, EMPLOYEES AND CUSTOMERS.